We recognise that there is no shortage of personal trainers these days – but what we offer is genuine commitment to your cause and a service that is about you.
You won't get gimmicks, fads or a trainer whose mind is elsewhere. You will get a friendly, motivated trainer working with you using tried and tested exercises and programmes that improve strength, stamina, stability, agility and body composition. You will also get advice and support regarding nutrition.
You can expect to work hard during sessions. The pleasure of achievement will then be all yours (albeit, we will enjoy your achievement too!)
We help clients in many ways, including:
Discovering/rediscovering enthusiasm for exercise
Making exercise part of their lives again
Moving more naturally and efficiently
Starting/improving their running
Losing weight/increasing muscle
Lowering blood pressure
Relieving stress
Training for a specific sport, event or challenge
Raising energy levels
Keeping up with their kids
KingFit is run by Andy King, a father of two, whose main priorities in life are health, fitness and family.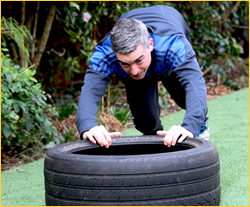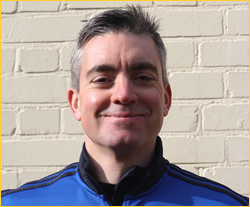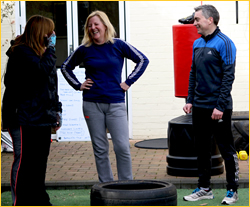 "I love being a PT.  I work hard to keep myself fit and I get a buzz from helping people improve their fitness and health – positive impact for my clients is my focus. I fully understand the pressures of modern life. I worked long hours in property for many years and have brought my children up on my own since my wife sadly passed away a few years back. Keeping fit before, during and since that trauma emphasised the importance of looking after ourselves and inspired me to make this my profession. If you're ready for some positive impact, I'm your man"!
Andy is a Level 3 Advanced Instructor and a member of the Register of Exercise Professionals and also has qualifications for training outdoors and sports conditioning.