Costs/Packages
Individual training
Initial meeting / consultation
Free (and with no further obligation)
1 session
£50
Pre-paid blocks
3 session trial
£100 (maximum of one per client) An ideal gift!
10 session block
£400
Intense 6 week programme (18 sessions)
£700 (Usually focussing on a key date or event)
Intense 12 week programme (36 sessions)
£1250 (Usually focussing on a key date or event)
Group training

We also run several fun, group sessions on a weekly cycle. See the pictures in the Gallery - high intensity circuit training in a supportive environment with likeminded people. Please contact Andy for more details.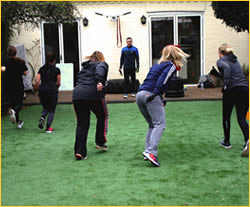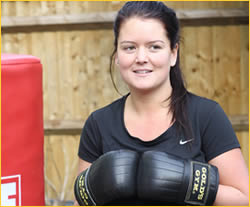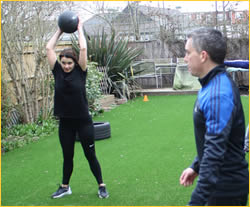 An initial consultation will last for around 45 mins, whilst each session thereafter is 1 hour. Shorter and longer sessions are available by discussion
What happens next?
What can you expect to happen once you've contacted and decided on KingFit?
Firstly, you will get together with Andy to discuss what you want to achieve, your exercise history, likes and dislikes, possible barriers to exercise that need to be addressed (e.g. time pressures), and whether you have any injury or medical condition that needs particular consideration. Your blood pressure will also be taken to see whether you need medical clearance to exercise before your first session.
This is your free initial consultation that takes place at a location convenient for you. There is no obligation for you to proceed with any training sessions, or incur any cost.
When you decide to book training sessions, you will either: prepay to get the best rates possible or pay session by session – whichever you prefer. Mutually convenient sessions will then be scheduled.
Andy will then devise your exercise programme based on the information that you have provided and what you want to achieve, i.e. your goals.
Your first couple of sessions will introduce the training concepts that are right for you, and start to provide you with some physical challenge (or really push you if that is what you are looking for). The focus will be on ensuring good technique, particularly if something is new to you, so that you are confident in getting things right if you also want to do them outside of your personal training sessions.
If it is appropriate, and you want to, at around the third session we may do some fitness tests, and/or circumference and body composition measurements, in order to measure your progress periodically over your fitness programme.
On an ongoing basis Andy will offer to use email and telephone contact between training sessions to maintain motivation and check your progress. Your training programme will also continually change and evolve to reflect your fitness gains and to maintain variety and interest!